Webinar on Reopening of Schools
---
13th August 2020 | News, What's New
---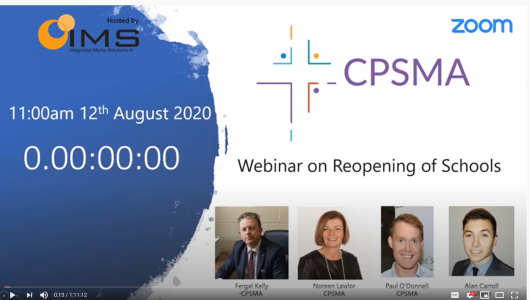 In response to the publication of Reopening Our Schools: The Roadmap for The Full Return to School, and in response to the many queries that have been raised by our members, CPSMA hosted a webinar to address the issues facing school management, as they facilitate the return to school in the context of this Roadmap.
The webinar  was hosted by:
Fergal Kelly, Education Executive, CPSMA
Noreen Lawlor, Development and Training Executive, CPSMA
Paul O'Donnell, Education Executive, CPSMA
Alan Carroll, Allianz Schools' Representative
Reopening our schools FAQs Published 11_09_2020
CPSMA has compiled a Frequently Asked Questions document, based on the queries raised by attendees before, during and after the broadcast. The FAQ has also been informed by the high volume of calls to our advice line.
This is a "live" document and it will be updated on a regular basis in the lead up to the re-opening of our schools, to ensure that you receive timely advice to emerging queries and concerns.
---