Symposium on Small Schools – 26th June 2019
---
27th June 2019 | News, What's New
---
CPSMA represented our member schools at the recent Symposium on Small Schools, held on Wednesday 26th June 2019. The Symposium was attended by the Minister for Education and Skills, Joe McHugh T.D., and also the Minister for Community and Rural Development, Michael Ring T.D. The recent press release from the Department of Education and Skills on this symposium may be found here.
Following from the opening remarks by both ministers, presentations were made on behalf of the stakeholders in attendance. CPSMA General Secretary, Seamus Mulconry, spoke on behalf of our small schools. Considerable time was given over to round table discussions where attendees discussed key issues and possible supports for small schools.
A number of essential supports were outlined by CPSMA during these round table discussions including:
Full restoration of the PTR for schools of P+3 and under to pre-Budget 2012 levels.
Provision of at least one Leadership and Management Day per week for teaching principals.
All small schools with special classes attached must have administrative status for principalship.
Funding for a minimum of 20-hours secretarial support per week must be provided in all schools, at civil service rates
Full restoration of the Capitation Grant and a planned schedule of increases into the future.
The requirement for an eight-member Board of Management be changed to a four-member Board in the case of two teacher schools.
Substitute cover must be provided, and funded, by the Department of Education and Skills, for all teacher absences.
Supply panels must be extended nationwide to ensure provision of substitute cover for teacher absences.
The continuation of Principal Release Time Posts to allow for substitute cover for these days.
CPSMA wish to thank all of the principals who took time to email the General Secretary. Their unique perspectives were of great assistance.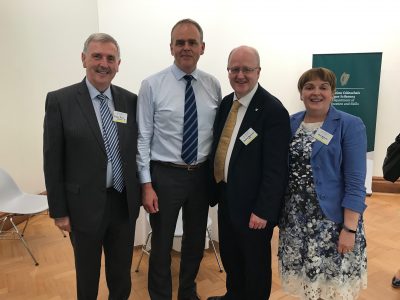 Members of CPSMA delegation with Minister McHugh
(L-R) Frank Burns, Minister McHugh, Seamus Mulconry, Mary Maloney
---